Officers, bomb squad, defuse tense situation on Route 495 where driver held knife to throat, had propane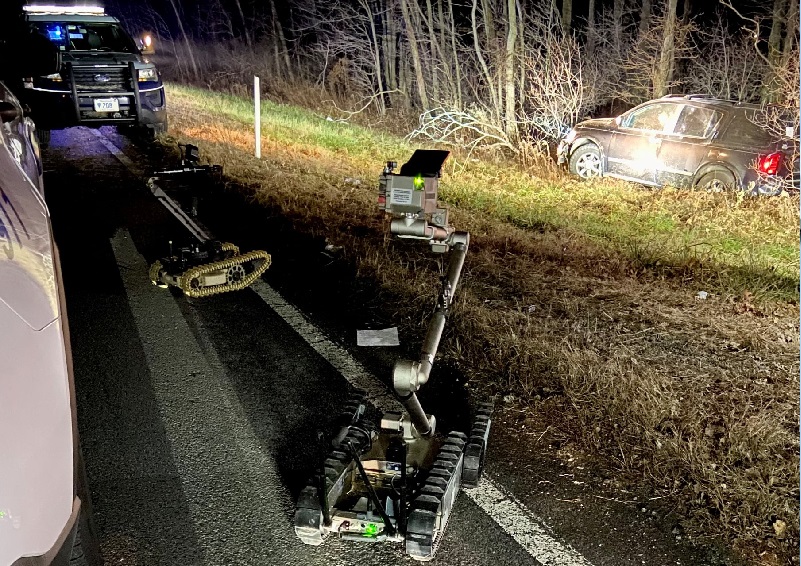 Troopers, Special Tactical Operations Team and crisis negotiators helped defuse a tense situation on a Massachusetts Highway.
According to Massachusetts State Police, on the night of January 6 Milford Police tried to stop an SUV whose driver had committed traffic violations. The suspect fled from officers and took Route 109 onto Route 495 south, where the suspect lost control and crashed into the wood line on the right side of the road. The driver, a 35-year-old Southbridge man, while still in the SUV, placed a large knife to his throat and threatened slash himself if the officers tried to take him into custody.
Massachusetts State Police Troop C patrols, an MSP K9 team, and MSP's Special Tactical Operations (STOP) Team and crisis negotiators responded. Negotiators established verbal and cell phone communications with the suspect, who said he had firearms and propane tanks in his SUV. Two MSP Bomb Squad Troopers responded with robotic systems, providing the capability to safely approach and gain close visual awareness of the suspect. Firefighters and EMS companies were also staged on scene.
At one point, the suspect tried to drive out of the ditch his SUV was stuck in, prompting STOP Troopers to deploy distraction techniques that had the intended outcome of making the suspect cease his attempt to drive away. Bomb Squad Troopers deployed two robots to provide additional overwatch of the scene. Visually and on monitors displaying video feeds from the robots, police observed the suspect's actions inside the vehicle, including holding the knife up to himself.
Negotiators patiently and calmly maintained communication with the man, eventually convincing him to surrender peacefully. The suspect threw his knife down and was taken into custody without further incident. Neither the suspect nor police officers were injured. The suspect was transported to Milford Regional Medical Center for evaluation.
Bomb Squad Troopers examined the vehicle for explosive hazards and located a propane tank. The tank was connected to a portable heater and its valve was closed. The peaceful resolution was the result of cooperation between and tactical skills of multiple agencies and units.
Thanks to the professionalism and discipline of responding Milford Police and State Police officers, a situation last week involving an armed suspect barricaded in a vehicle was resolved safely.