While some areas issued Winter Storm Watch, updated forecast shows major change in possible snow accumulation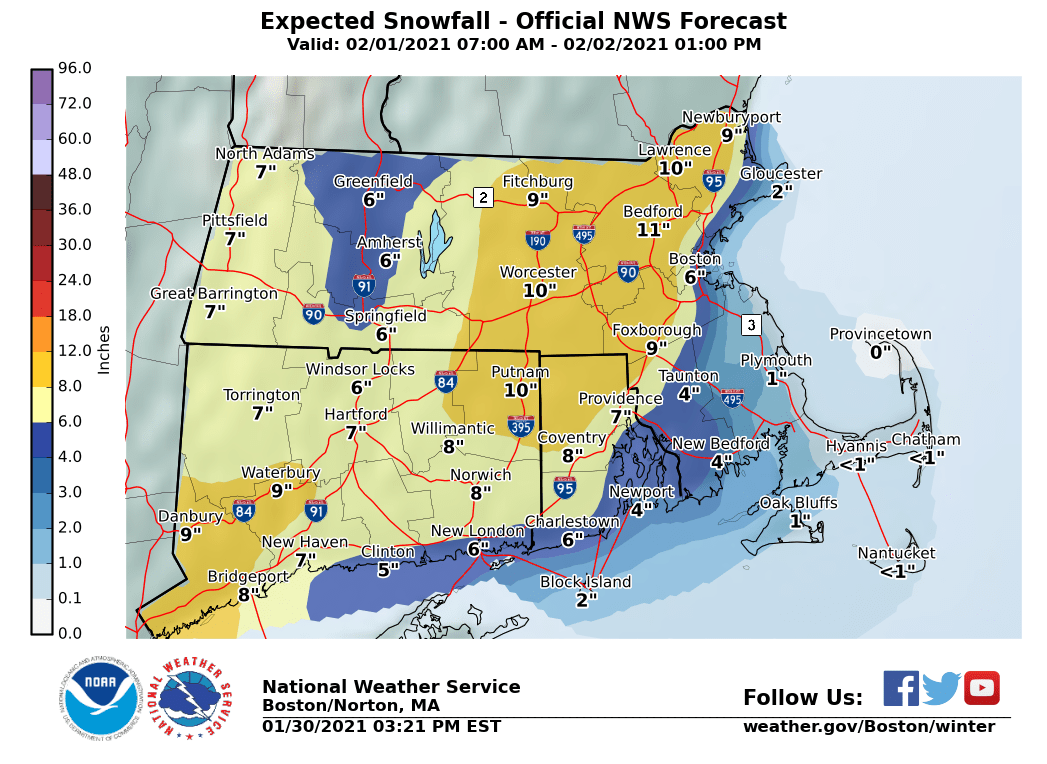 An updated forecast shows the potential of a major change in snow accumulations involving next week's storm.
According to the National Weather Service, a Winter Storm Watch is now in effect from 7am Monday through 1 PM Tuesday for the communities in blue. Snow accumulations could reach 6-12 inches. Hazardous road conditions expected during the evening commute on Monday.
The expected snow totals for southeastern Massachusetts, however, have significantly decreased due to a more western track of the storm along with warmer temperatures.
Strong winds may still result in scattered and isolated power outages across eastern Massachusetts and Rhode Island which may also include some downed trees.
Coastal flooding and beach erosion will be possible along the eastern Massachusetts coastline during high tide.
The forecast:
Monday
Snow, mainly after 1pm. High near 36. Breezy, with a northeast wind 8 to 13 mph increasing to 15 to 20 mph in the afternoon. Chance of precipitation is 80%.
Monday Night
Rain, possibly mixed with snow, becoming all rain after midnight. Low around 33. Breezy, with a northeast wind 18 to 22 mph. Chance of precipitation is 90%.
Tuesday
Rain before 3pm, then a chance of rain and snow. High near 39. North wind around 18 mph. Chance of precipitation is 80%.
Tuesday Night
A chance of snow before 7pm. Cloudy, with a low around 27. North wind 10 to 13 mph. Chance of precipitation is 30%.