Suspect charged as armed career criminal after Fall River traffic stop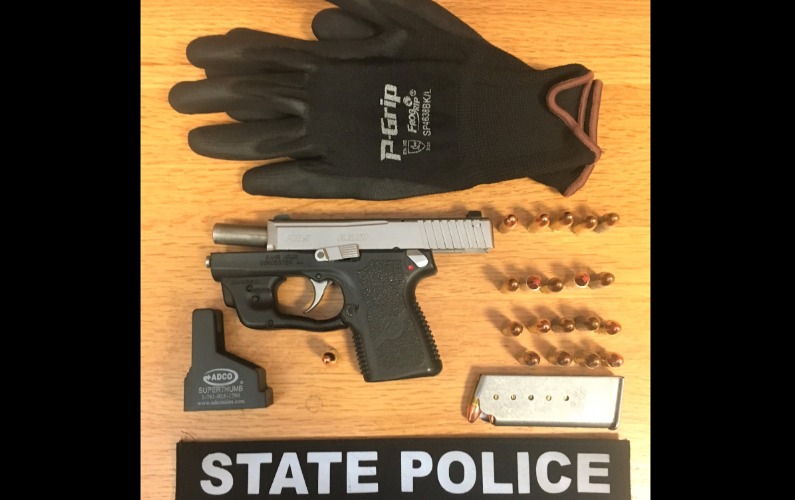 Three Massachusetts State Police Troopers and an FBI agent yesterday in Fall River stopped and arrested a repeat firearm offender, in the process recovering a loaded semi-automatic handgun with an attached laser point, a speed loader, a bag of additional ammunition, gloves and a ski mask. The suspect was eventually charged as an armed career criminal.
The suspect, CHRISTIAN TEIXEIRA, 33, of Mattapan, was the passenger in a car operated by a 27-year-old Fall River man known to the State Police Gang Unit as a gang member. Troopers were also aware that the driver's brother had survived a stabbing on Wednesday.
At approximately 12:30 p.m., Sgt. Frank Walls and Trooper Keith Ledin and FBI Special Agent Don Kornek, assigned to the Southeastern Massachusetts Gang Task Force, and Trooper Anthony Chatigny assigned to the Troop D Community Action Team were patrolling the city in an unmarked cruiser when they observed a gray Nissan Altima commit a traffic violation at the intersection of Dwelly and Tuttle Streets.
The Troopers activated the cruiser's lights and siren to stop it; the Nissan turned onto Benjamin Street and came to a stop halfway down the street. The Troopers and Agent approached both sides of the car and spoke to the driver and passenger TEIXEIRA.
Asked about his brother's stabbing, the driver claimed to have little knowledge about it. The Troopers and Agent observed several signs that both occupants of the car appeared nervous.
A check revealed that both occupants were currently on probation for prior firearms charges. Troopers then asked TEIXEIRA to exit the vehicle, which he refused to do. Troopers observed TEIXEIRA twist and tense his body, and press up against the center console. After several demands to do so, TEIXEIRA finally unlocked the door, but tried to push away as Troopers, for safety purposes, tried to search his waistband for a concealed item. As TEIXEIRA continued to resist, Troopers gained control of the suspect, removed him from the passenger seat, placed him onto the ground and secured him.
On the passenger seat where TEIXEIRA had been sitting, Troopers observed a black leather pouch. A Trooper fled the bag and immediately knew it contained gun. The bag was removed from the car. Meanwhile, another Trooper and the Agent secured the operator for safety purposes.
The pouch contained a KAHR PM9 semi-automatic handgun with an attached laser and a defaced serial number. The weapon was loaded with one 9mm round in the chamber and six in the magazine. Troopers also recovered a black speed loader and a white bag filled with 19 more 9mm rounds. Troopers also located two pair of black rubber gloves in the vehicle. As well, a black ski mask was found concealed in TEIXEIRA's underwear.
A query of TEIXEIRA's history indicated he is on probation out of Suffolk Superior Court from a prior arrest for unlawful carrying a firearm and possession of ammunition. State Police determined TEIXEIRA has three prior convictions for illegal firearm possession.
TEIXEIRA was transported to State Police-Dartmouth, where he was booked on the following charges:
Unlawful possession of a firearm, 4th offense;
Committing a firearm violation with a record of three prior violent or drug crimes;
Possession of a firearm/ammunition without an FID card, subsequent offense; and
Being an armed career criminal.
TEIXEIRA was then transported to Ash Street Jail to await arraignment. The driver was not charged.
For information on Wednesday's stabbing: Wednesday Stabbing