Over 400 attend Trump/Back the Blue standout in Dartmouth on Sunday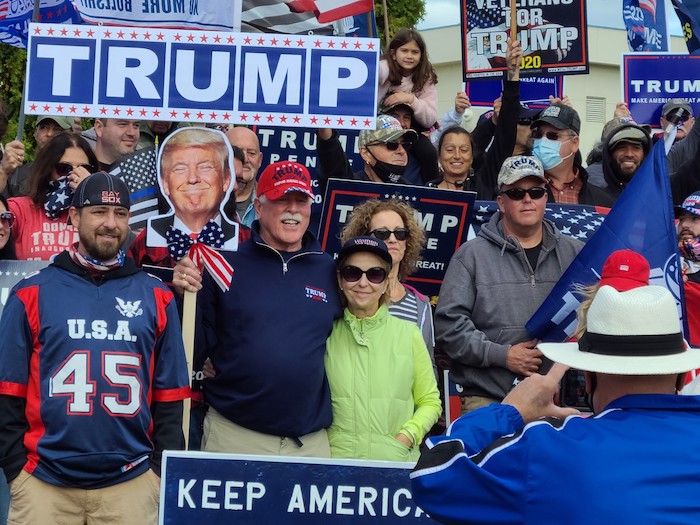 By Jess Machado
In what was one of the largest Trump rallies in the traditionally Democratic state of Massachusetts, over four hundred supporters gathered in North Dartmouth yesterday for a Trump/Back the Blue standout that drew people from across eastern Massachusetts and Rhode Island.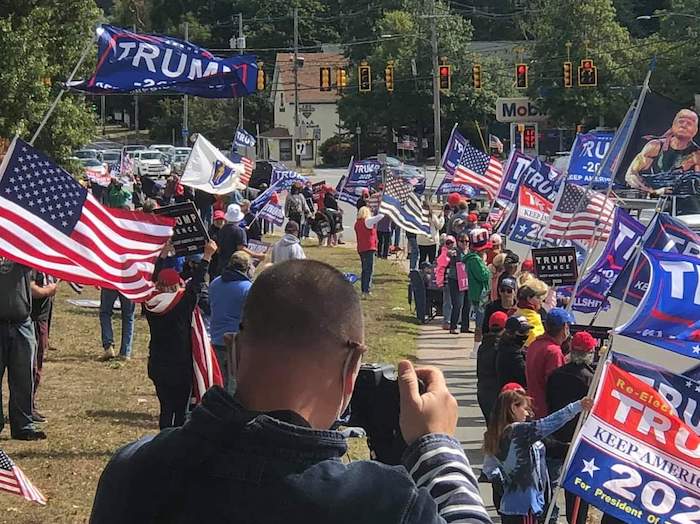 Trump standouts have been growing in popularity in the southcoast with recent events in Swansea, Somerset, Fall River and Dighton. Event organizers Michael O'Reagan and Jessica Machado have been organizing events since early August and with each event, the crowds have doubled in size. "Our first sign holding in Dighton on August 3rd had only 17 people. Once we started to get the word out, people began showing up and the events just took off" said Machado, Chairwoman of the Somerset Republican Town Committee.
The event on Sunday took place at the intersection of Route 6 and Faunce Corner road early Sunday afternoon after Dartmouth resident Chris Pereira reached out to the Trump team about bringing an event to his town.
A last minute discovery of a bike run that was starting in Tiverton and heading to Providence turned out to be the highlight of the day as organizers of both events were able to connect and the route for the run was switched to head down Route 6, passing by the waiting Trump supporters. Machado said it was good timing and luck that they were able to get the group to drive past. "We had people early in the morning helping to find the organizer of the Tiverton event and the group was happy to drive by. It was a really exciting moment in the rally." Close to 200 bikers, some with Trump flags and American flags attached to their bikes, did a double pass by the group to cheers and waves.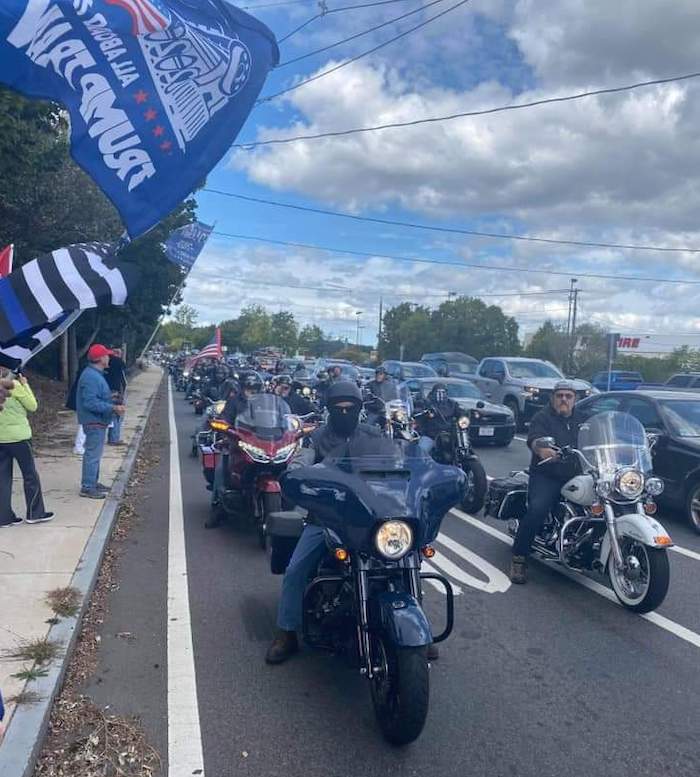 Not all passersby were as enthusiastic. Dartmouth police assisted with a BLM protester who insisted on joining the crowd and swore at Trump supporters while yelling "Black Lives Matter". A passing motorist threw a Gatorade bottle at a retired sign holder, while another threw food out their car window at supporters. The latter of the two was arrested for not having a license nor a registered vehicle.
Sunday's standout was well attended by local politicians as well as candidates running for office across the Commonwealth. Bristol County Sheriff Thomas Hodgson, Chairman of the Massachusetts Trump campaign spoke to the crowd about upcoming events and the Trump movement across the state. Congressional candidate Helen Brady joined the crowd and popular now write-in Congressional candidate Rayla Campbell was greeted by fans and supporters. Evan Gendreau, candidate for State Representative out of Westport was joined by fellow Westport resident Nancy Stanton-Cross, recently elected State Committeewoman and candidate for County Commissioner. Fall River City Councilor Christopher Peckham was happy to join the crowd and Michelle Orlando, chairwoman of the Westport Republican Town Committee attended with her husband as well.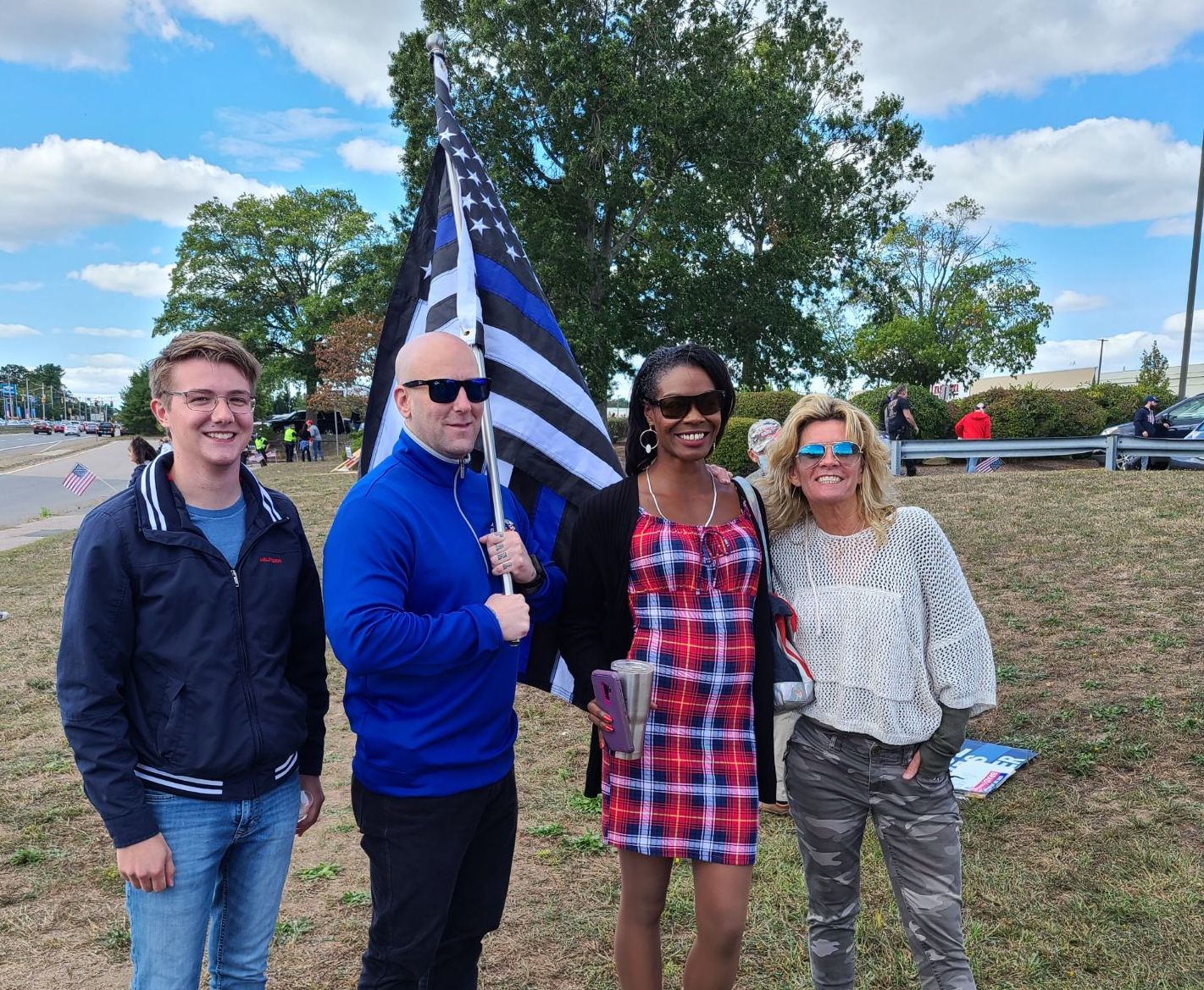 Overall, the event was safe and well managed by the Dartmouth Police Department. O'Reagan a Fall River Fire Fighter who worked in Dartmouth as a part of the Rescue team for over 15 years, said the men and women he worked within Dartmouth were great then and they are great now. "The members of the Dartmouth PD were fantastic and I'm sure were very happy to have the support." There were several "Back the Blue" signs and flags in the crowd, at a time when support for law enforcement seems to be needed most. O'Reagan said that he believes most people all want the same thing, just have different ways of going about it.
Dartmouth Police Department released a statement from Chief of Police Brian P. Levesque about the event, stating: "On behalf of the members of the Dartmouth Police Department, I would like to thank both the organizers and participants of today's peaceful political rally on State Road. Their courtesy and mindfulness for public safety was greatly appreciated."
The standout comes with the Presidental election just over a month away. Organizers have events planned leading right up to the election, with the next standout scheduled for this coming Saturday, September 26th in Westport at 9 AM on Rt 6 near Cumberland Farms. For more information about events and other ways you can help support the Massachusetts Trump Campaign, email the team at trumpmassachusetts2020@gmail.com or join the official Facebook page at www.matrump2020.org.