Man accused of fentanyl trafficking in Plymouth, Bristol, and Norfolk Counties sentenced to prison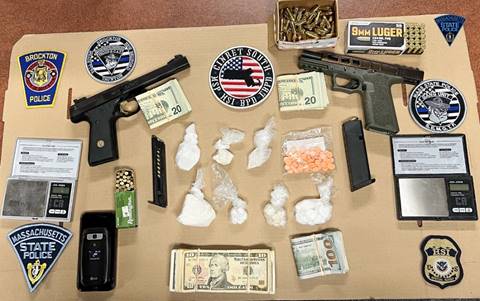 A 39-year-old fentanyl and cocaine trafficker who crashed into a Massachusetts State Police cruiser in an attempt to flee from arrest last January was convicted of a litany of drug and gun crimes last Friday in Fall River Superior Court and was sentenced to serve up to six years in state prison, Bristol County District Attorney Thomas M. Quinn III announced.
Luis Garcia-Rodriguez of Taunton pled guilty to indictments charging him with Assault and Battery with a Dangerous Weapon, Reckless Operation of a Motor Vehicle, Carrying an Illegal Firearm, Carrying a High-Capacity Firearm, Trafficking Cocaine, Unlawful Possession of Ammunition, Possession with Intent to Distribute Cocaine and two counts of Trafficking Fentanyl.
In the Winter of 2021-2022, state troopers from the CINRET-South narcotics task force determined that Garcia-Rodriguez was selling fentanyl and other narcotics in the Brockton and Taunton area, and that he was using his apartment on Bay Street in Taunton as his stash house. After approximately eight controlled purchases of narcotics and a GPS warrant on Garcia-Rodriguez's vehicle, the troopers secured search warrants for Garcia-Rodriguez, his apartment in Taunton, and his vehicle. On January 28, 2022, the troopers served the warrants.
Troopers observed Garcia-Rodriguez and his girlfriend exit his apartment and enter her vehicle. Garcia-Rodriguez was driving, and the troopers knew that he had a suspended license. The troopers also observed that Garcia-Rodriguez was carrying a cross-body bag which he used to store his narcotics. As Garcia-Rodriguez began to drive away, a trooper marked Massachusetts State Police cruiser stopped the woman's vehicle. As that trooper exited his cruiser and walked to Garcia-Rodriguez's girlfriend's car, he put the car in reverse and backed up at a high rate of speed. Garcia-Rodriguez crashed into another trooper's cruiser and pushed it back approximately fifteen feet. The collision was with sufficient force that the two air bags deployed in the cruiser. After the collision, Garcia-Rodriguez drove away from the scene at a high rate of speed. He pulled into a driveway and fled the vehicle on foot.
Another trooper spotted Garcia-Rodriguez a short time later walking down Bay Street and now without his cross-body bag. He was taken into custody and a large quantity of money was taken. The trooper searched for the cross-body bag and discovered the bag hidden in some wooded pallets in Garcia-Rodriguez's path of flight. Inside of the cross body-bag, the troopers discovered a high capacity 9MM handgun loaded with 17 bullets in the magazine. They also located approximately 33 grams of fentanyl and 18 grams of cocaine.
When the troopers executed the search warrant on Garcia-Rodriguez's apartment, they located a 22-caliber handgun which was loaded with 10 bullets in his bedroom. They also located approximately 33 grams of fentanyl and 53 grams of cocaine from his bedroom, along with packaging and drug paraphernalia and scales. The police also recovered a large quantity of money and boxes of ammunition for the 9mm and 22 caliber handguns.
A total of $3,573 was seized from Garcia-Rodriguez and his apartment. That money was forfeited by motion during his plea hearing last Friday.
Judge Raffi Yessayan sentenced Garcia-Rodriguez to serve four to six years in state prison, to be followed by one year of supervised probation. The case was prosecuted by Assistant District Attorney Jason Mohan, who had argued for a six-and-a-half to eight years state prison sentence.
"At the time of this incident, the defendant was out on bail for drug trafficking, and has prior convictions that include drug dealing. Yet he continues to traffic in drugs, possess illegal firearms and endanger the lives of officers trying to apprehend him. He clearly is a danger to the public and needed to be taken off the streets to protect the community," District Attorney Quinn said.