Lou Rebello, local vapors march to Massachusetts Statehouse ahead of Wednesday's vote on ban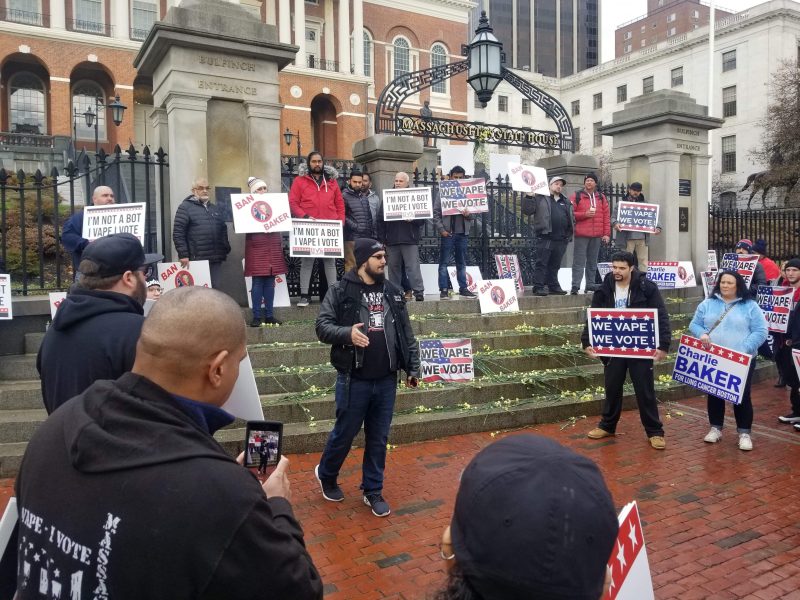 Ahead of Wednesday's Senate vote on Bill H 4183 that would ban the sale of flavored vaping and tobacco products, local businessman Lou Rebello decided to fight back. Rebello, owner of GoodFella Vapor, charted a bus and invited employees, both past and present, as well as anyone against the ban, to join him for a rally today in Boston. Rebello and his group joined about 150 other members of the state vaping community who peacefully protested the pending vote. The rally, organized by the United Vapors Alliance, took their objection of the bill straight to the steps of the State House with signs saying "We Vape. We Vote." as well as "Ban Baker", a reference to the recent temporary ban of vape products put in place by Governor Baker this past September.
The bill, which passed the Massachusetts House last week in a 126 – 31 vote, will not only ban the sale of flavored products including mint and menthol cigarettes, it will also impose a 75% vape tax. Lawmakers adopted an amendment that will allocate 30 percent of the vape tax to a trust fund that would be used for substance abuse programs in local communities. It has been estimated that those programs could see between $10 million to $15 million in revenue per year.
Rebello's GoodFella Vapor took a major hit when the temporary ban went into effect. GoodFella owned and operated three locations: New Bedford, Somerset, and Swansea, but has since closed all but the Swansea location, terminating all of his staff. A walk on Washington by thousands in the vaping community back on November 9th ultimately led to President Trump putting a national flavor ban on hold. Rebello hoped that the rally today would send the same message to Massachusetts lawmakers before the Senate votes tomorrow.