Fall River FC returning to competitive soccer over 80 years later
Fall River Football Club is making a return to competitive soccer after an 87 year absence.
The soccer team, which played in the American Soccer League in the early 1920s before becoming the Fall River Marksman and then being revived again in the early 1930s, is being reborn in 2019.
Fall River FC is set to play in division three of the Bay State Soccer League in their inaugural season with an eye on division two. According to Ryan Moniz, the team will be run by Pedro Miranda, Kevin Estrela, Andre Martins, Flavio Carvalho, Miguel Pavao, and himself. FC is scheduled to play their home games at Britland Park free of charge to fans who are looking to watch Fall River's newest soccer team. Moniz states that the schedule will be released in the coming days and tryouts have already been held. "We are always open to anyone who would like to train with us."
When asked how FC was comprised, Moniz pointed out that the team has a wide range of experience from high school to college to semi-pro. Ages of the footballers range from 18-28.
FC recently revealed their team logo which was inspired by the team from the early 1920s.
The season is set to begin in about 6 weeks.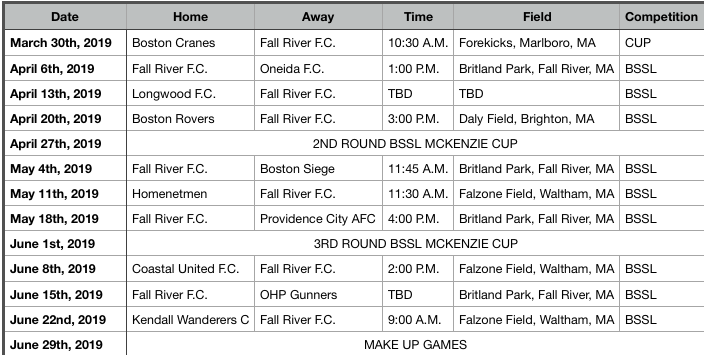 They have also created a website https://www.fallriverfc.com/