Fall River Landmarks: Who Remembers….the Nite Owl?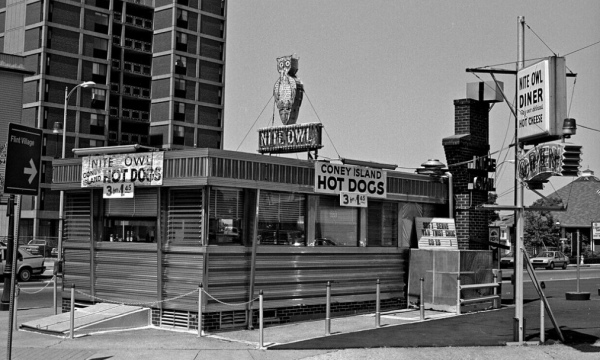 Who doesn't like to wax nostalgic about those landmarks we recall visiting as a child? These places are mnemonic anchors for numerous childhood memories and a simple mention of a place will often bring a flood of memories.
What we hope to do with this series is bring together all of the facts about a particular place, its owners, various images, and any pertinent facts to evoke fond memories. A sort of digital memory stroll.
If you have memories, relevant information, or corrections please comment below or email us at info@fallriverreporter. com. If you have an idea for the next "Fall River Landmarks" please let us know and maybe we'll feature it in the next installment!
___________________________________________________________________
When various vintage photos of restaurants show up on the Fall River Reporter website and social media accounts, one that is a consummate favorite is that of the "Nite-Owl" on the corner of Pleasant Street and Eastern Avenue – the "top of the Flint." Scores of comments pop up immediately and people begin sharing their memories of visits and of its iconic owl that sits atop the building.
Custom built in 1956 by DeRaffele Diners of New Rochelle, N.Y., it was originally the tiny "Worcester Lunch Car No. 786" before the stainless-steel and red enamel striped structure was replaced by the one most everyone fondly remembers. In fact, in its first years before being the Nite-Owl, it was nicknamed the "Worcester/DeRaffele diner" and was on a truck bed and both diners were side-by-side.
How and why the "Worcester/DeRaffele diner" vanished leaving behind the "Nite-Owl" diner has been lost to history. But perhaps some of you local-yokels remember and can enlighten us. Regardless, the iconic mascot was taken from the Worcester Diner and placed on top of the relatively newer, aptly named "Nite-Owl" diner.
The small old-fashioned diner "packed them in" and on most mornings that meant a queue forming outside. It also meant finding a parking spot somewhere nearby since the parking lot was too small to meet the demands of locals. Back in the 1950s through the 1980s, people weren't bothered by finding parking because, well…we walked more back then.
Regardless, anyone who ate there understood the legendary queues. People have no problem waiting in line when the food was not only delicious, but you could take the family there for breakfast or lunch without breaking the bank. Full bellies, smiling faces, affordable prices. Some would call it a "greasy spoon" but greasy spoons are a part of Americana. Sometimes you just want something to stick to your ribs, some comfort food. Pancake mountains, eggs, and bacon, classic cheeseburger, and fries, their famous Coney Island hot dogs, a BLT, a grilled cheese and tomato soup…things that fed the soul, not just the belly.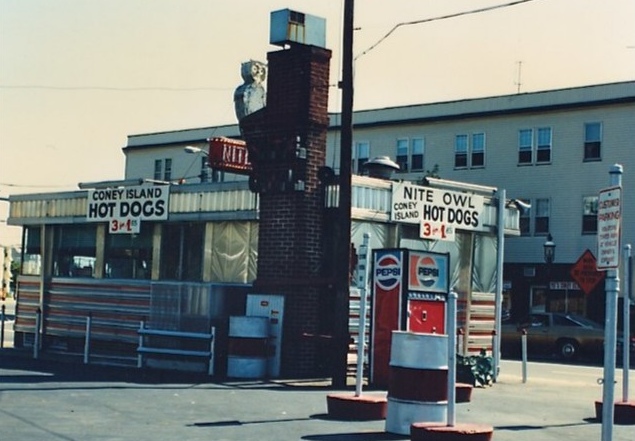 Photo by Mod Betty.
These sorts of diners are dying out as they try to go head to head with the big-box chains like Denny's, IHOP, and Perkins. For that matter, the ubiquitousness of Honey Dew, Dunkin', and Starbucks helped move that death along especially when they began to offer more than coffee, but breakfast and lunch sandwiches.
When the Nite-Owl closed its doors it sat there lifeless and empty for years, and at one time there were even calls for it to be moved to Battleship Cove as a tourist attraction. It's hard for people to let go of something that played such a powerful role in their lives for decades.
Photo by Kenneth C. Zirkel.