Two elected officials show up to Recover Fall River's Overdose Awareness Event and Vigil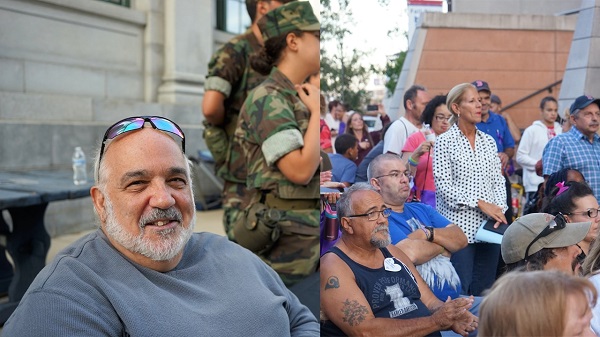 68,000 people across America died from overdoses, 54 in Fall River in 2018. To put that in perspective, Fall River sees an average of 2 homicides each year, so you are 27 times more likely to be impacted by an overdose than a murder in Fall River. So why did only two elected officials show up to this weekend's overdose awareness event?
The amazing volunteers at Recover Fall River did a fantastic job at organizing an overdose awareness event this past Saturday in front of the Fall River Government Center for International Overdose Awareness Day. For four straight years, the organizers have held this event on August 31, the official date for International Overdose Awareness Day.
First, let me say that the event was very well attended by volunteers, those who have lost loved ones to the opioid crisis or those simply wanting to show support for the event. Hundreds show up and for that Fall River, especially the volunteers at Recover Fall River and others that supported the event, should be commended.
For the local media, Fall River Reporter covered the event with a live video and photos, and Eric B Media went all out and provided a multi-camera stream on every minute.
Noticeably absent were locally elected politicians. Of the state representation, only State Representative Carole Fiola attended the event.
No mayoral candidates were present though Mayor Jasiel Correia's assistant Monica Souza represented the mayor's office.
Only one of the nine Fall River City Council members, Steven Camara, attended the event. Only two City Council members show up for Fall River's Memorial Day parade earlier this year.
Four candidates running for office this year were in attendence; City Council candidates Trott Lee, Marc Nathaniel Mollicone, Timothy Cole and Christopher Peckham.
The roll call of elected officals was announced before the event started and how we got the final tally:
I won't question the motives of elected officials that do not show up to important events like this, but they should consider the message it sends the Fall River's population, especially the friends and family members of those impacted by addiction. Holiday weekends are only excuses if you allow them to be.