Bristol Community College celebrates in-person the class of 2022, prestigious award recipients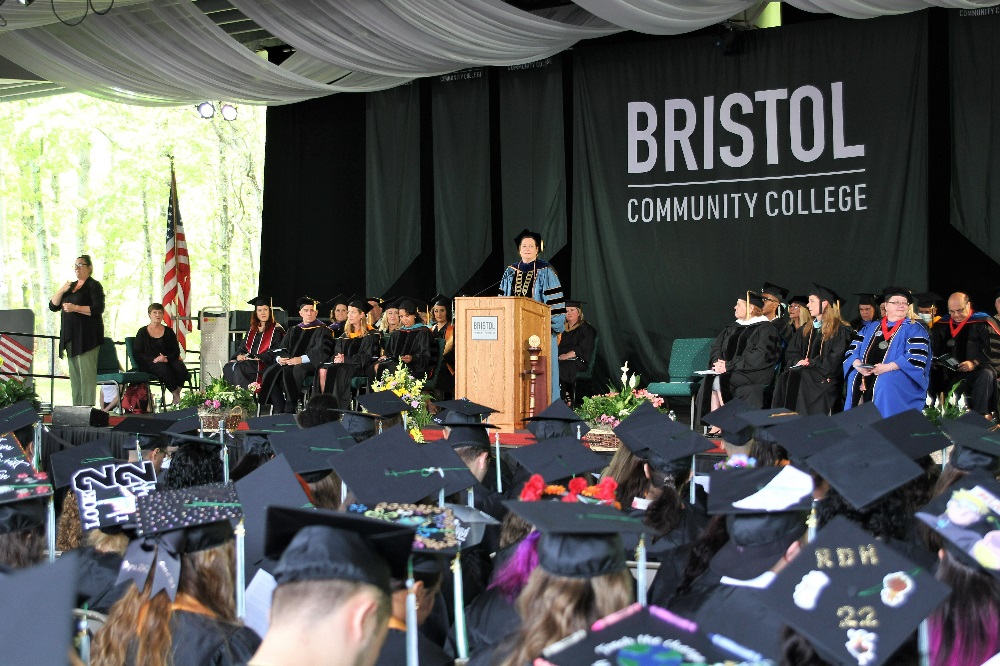 Bristol Community College celebrated its 55th Commencement Ceremony on Saturday under the college's solar canopies at the Bristol Fall River Campus on Elsbree Street. The first in-person commencement ceremony since the pandemic began in March 2020.
At the in-person ceremony, Bristol awarded approximately 971 degrees and certificates including degrees in Associate in Science, Associate in Arts, and Associate in Applied Science. Certificates of achievement were also awarded. Academic achievement with cum laude, magna cum laude and summa cum laude designations were additionally recognized. Graduates from all Bristol Community College locations attended, including the Attleboro Campus, Fall River Campus, New Bedford Campus and Taunton Center.
Bristol also hosted "Take Two!," an in-person celebration of the college's 2020 and 2021 graduates, on Friday, May 20, at 5 p.m. Bristol's '20 and '21 graduates, as well as their guests, gathered under the solar canopies on the Bristol Fall River Campus, where the 2022 commencement stage and seating was set up. After brief welcoming remarks, each graduate had their name called and was given the opportunity to cross the stage and be photographed.
In keeping with tradition, the following prestigious awards were presented during Bristol's 2022 Commencement Ceremony:
CLASS OF 2022 VALEDICTORIAN AND SALUTATORIAN
This year's Valedictorian is Victoria Perry, of New Bedford, Associate in Science in engineering science (engineering science transfer); and the Salutatorian is Kevin England, of Wareham, Associate in Arts in general studies.
Victoria Perry, of New Bedford, is a 17-year-old full-time dual-enrollment student and leader dedicated to her long-time goal of becoming a fighter pilot. In May, she will achieve both her Associate in Science in engineering science (engineering science transfer) and High School diploma. She is Bristol's first United States Naval Academy Midshipman and is the prime example of how far Bristol students can soar.
Victoria excelled in her courses and actively served the college as Vice President of the Student Senate, Open Educational Resources Taskforce Student Ambassador, Grievance Committee Student Representative, Academic Calendar Committee Student Representative and as a member of STEM Starter Academy. A believer in giving back to her community, Victoria is an Eagle Scout and volunteers at regional food drives and nursing homes.
Victoria credits Bristol's Dual-Enrollment program with advancing her educational and career goals through the program's challenging college-level coursework, academic advising and inclusive experience. She is grateful to the college's faculty and staff for their unwavering encouragement, guidance and support throughout her academic journey at Bristol.
Victoria will report for her Plebe year at the United States Naval Academy in the summer of 2022. Acceptance to the academy is extremely limited with a nine percent acceptance rate.
Kevin England, of Wareham, attributes his success to the support of his family, friends and Bristol faculty who have helped him to persevere past his challenges and become a voice for others with autism spectrum disorder (ASD). In high school, Kevin was a member of the National Honor Society, received the Principal's Award and earned all A grades as one of the top 10 in his class.
While studying at Bristol, Kevin also excelled academically and was inducted into Phi Theta Kappa, the international honor society of two-year colleges, for students with grade point averages of 3.5 or higher. In addition, he serves his community as a volunteer in the CARE program at Wareham Middle School, regional food drives and raising money for UNICEF.
To achieve his academic and career goals at Bristol, Kevin utilized the college's Tutoring and Academic Support Center and worked closely with the college's Office of Disability Services on individualized support services and accommodations that worked best for him.
This fall, Kevin will continue his education in communications at Bridgewater State University, with the goal of pursuing a career in the social media or multimedia field.
The college also announced the following prestigious award recipients honored at Bristol Community College's 2022 Commencement Ceremony:
DISTINGUISHED CITIZEN AWARD
The Distinguished Citizen Award is presented annually to an outstanding local citizen whose character and achievements have enriched the life of the community, or to an individual who has made distinguished contributions in the fields of health, education, business, industry, labor, government or the arts.
This year, the 2022 Distinguished Citizen Award was presented to Gail M. Fortes
Fortes has served as the Executive Director of the YWCA Southeastern Massachusetts since September 2006. She has also served the YWCA in numerous other roles and capacities since January 1994. Gail is a dedicated community member and is truly committed to the YWCA mission of eliminating racism and empowering women.
Gail earned her bachelor's degree in physical education and master's degree in public administration from Bridgewater State University. She is also the recipient of the 2015 New Bedford Woman of the Year Award from The Standard-Times and a 2016 Unsung Heroine Award from the Massachusetts Commission on the Status of Women.
In her role at the YWCA of Southeastern Massachusetts, Gail oversees programming in the areas of racial and social justice, economic empowerment, adult and youth services, and residential programming for women. Under her leadership, the YWCA completed a $4.2 million capital project, which included the renovation of the historic Levi Standish House (YWCA administrative offices) and the construction of a two-story building addition that included the YWkids School Age Child Care, a Mass. licensed Early Education and Care program for 52 children ages 5 to 13 on the first floor, and on the second floor, Another Woman's Place Residential Program that includes eight single room occupancy housing units for low-income women ages 18 and over.
As a tireless community leader, Gail serves on several boards and community organizations including Vice-Chair of the Southcoast Community Foundation, Past President of the National Association of YWCA Executives, Board Member of the One SouthCoast Chamber, Board Member of BayCoast Bank, Trustee for Alma del Mar Charter School, Trustee for Global Learning Charter Public School, Board Member of the United Front Development Corp., Chair of the Board for Youth Opportunities Unlimited and Treasurer of the Cape Verdean Association in New Bedford. Gail also serves as host of the Dartmouth Cable Television Show "Voices of Women."
Fortes is a resident of New Bedford.
HONORARY DEGREE OF ASSOCIATE IN HUMANE LETTERS
The Massachusetts Department of Higher Education has granted Bristol Community College the right to award honorary associate degrees in humane letters. The college awards these degrees to individuals who illustrate, through a career of intellect and service, the best of Bristol Community College's vision – to change the world, learner by learner.
This year's 2022 honorary degree recipient is Kerry Murphy Benenato, Ph.D. for her innovative contributions to medicine, including mRNA-1273, Moderna, Inc.'s COVID-19 Vaccine.
Dr. Benenato received her Bachelor of Science in chemistry, with a minor in math from Providence College; her Ph.D. in organic chemistry from Boston College and was a National Institutes of Health (NIH) Postdoctoral Fellow at Harvard University.
Following her post-doctoral work, she joined AstraZeneca Pharmaceuticals, where she was part of the Infectious Diseases group, focusing on the identification of new therapies for gram-negative bacterial infections. After seven years at AstraZeneca, she joined Moderna, Inc. as the founding member of the Platform Delivery Chemistry team, aimed at identifying novel lipid nanoparticle components for the delivery of mRNA therapies.
Dr. Benenato is currently the Vice President of Platform Delivery at Moderna, responsible for the organization's Discovery Chemistry, Pre-formulation and Formulation Discovery teams. Since joining Moderna, she has led the discovery of multiple novel delivery vehicles, which have progressed into human clinical trials for a range of indications. She is also an inventor of over 20 United States Patents.
LAST LECTURE
The Last Lecture is a faculty honor created by the Bristol Community College Student Senate. The award honors one exemplary faculty member who has affected students' education and their lives in significant ways.
Kathleen Plante, Ph.D., RN, Professor of Nursing at Bristol Community College was selected by students to deliver the Last Lecture at Bristol's 2022 Commencement Ceremony.
GRAND MARSHAL
Howard Tinberg, Ph.D., Professor of English at Bristol Community College was honored to serve as the Grand Marshal at Bristol's 2022 Commencement Ceremony. Continuing Bristol's tradition of awarding this honor to one of the college's longest-serving faculty or staff members, Dr. Tinberg lead this year's graduates to the commencement stage.