Area residents turn out for fundraiser to support fight against Brayton Point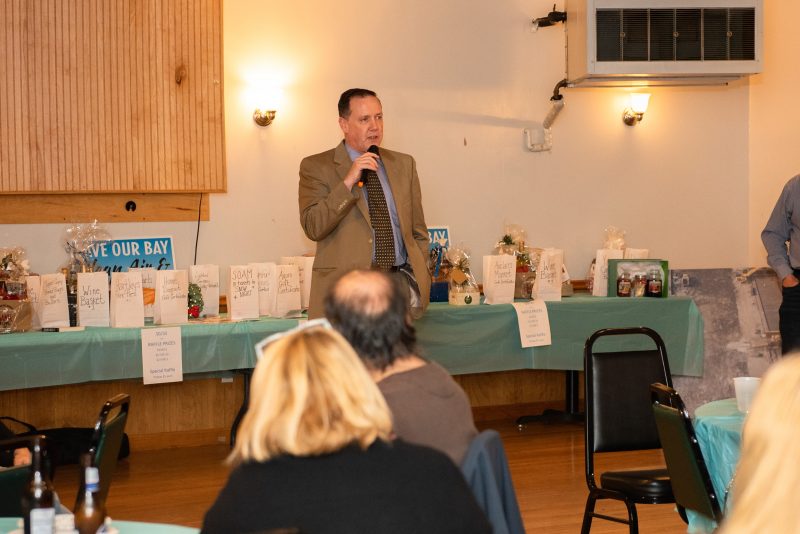 An organized group of area residents held a fundraiser last night to support their efforts to protect the waters off of Brayton Point.
Over $1000 was raised Thursday night at the Somerset Progressive Club with over 100 residents attending the event. Ticket sales and a raffle with donations from local Somerset businesses helped make it a successful evening. The spaghetti dinner was provided by Ma Raffa's owners Nick and Janet Raffa.
Somerset residents have been vocal concerning how the Brayton Point Commerce Center has been used as of late, with metal scrap being trucked in daily for departures on rigs in the deep water port. Residents have attended both board of selectman meetings as well as planning board meetings and voiced their concerns to elected officials over the current use of the property.
The Brayton Point coal burning power plant was closed in 2017 after over 50 years in service. The desirable area is owned by Dynegy Inc. and talks about a wind energy transfer station were in the works. In the meantime, the company has been using the area to have metal scrap brought in where it is loaded onto a barge and shipped out.
Residents have complained about the excessive truck traffic on Brayton Point road, a residential thru way where residents said trucks are driving past homes as early as 6:30AM. Drone footage of scrap being loaded into barges shows overflow into the bay and neighborhood members have stated the loud noise has been a distraction late into the night.
Thursday's fundraiser was attended by Board of Selectman Steve Moniz, who addressed the crowd as not only an elected official, but as a resident of the Point. Moniz asked the public to give the town "more time" to work on these issues. Also in attendance was Somerset School Committee member Victor Machado as well as Fall River City Councilor Steve Camara. Also addressing the crowd was Fall River attorney Patrick McDonald, who got emotional while speaking about the fragile wildlife in the area and how they are effected by activities at the former power plant.
Group organizer Allen Smith was greeted with a loud round of applause as he spoke to the crowd. Smith reminded attendees that the purpose of the group is to work for responsible development and to ensure that the environment is protected. Lorne Lawless, former selectman, told the group the money raised last night will go towards continuing to promote awareness of the mission through means already deployed including lawn signs, postcards and to develop large format prints for use at public meetings.
The group encouraged all residents to attend the next zoning board meeting which is slated for December 9th at 6 PM at Somerset Middle School.