Fall River woman arrested after prep school incident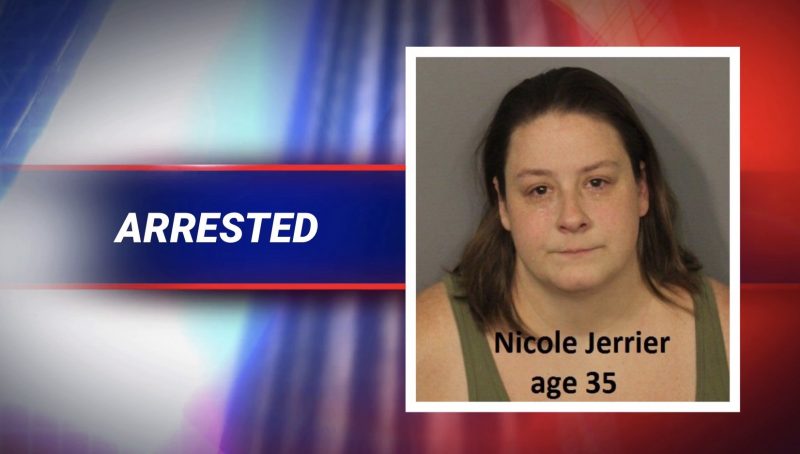 A Fall River Woman was arrested and charged with Disturbing a School Assembly Officer.
Jonathan Estrella reports that on December 6th, 2017 at approximately 9:20 a.m. a student had entered the Resiliency Preparatory Academy located at 290 Rock Street with his mother. As they enter they were passed by a male and female student. Words were exchanged between the three students. The three students and the parent walked outside.
Once outside, the female student began slapping the male student who was with his parent. The female was then joined by the other male who began throwing punches.
School Safety Officer (SSO) Maureen Cosgrove and other staff members attempted to break up the fight. The parent, identified as Nicole Jerrier, continued to act aggressively towards school staff and other students who had gathered to watch the fight. SSO Maureen Cosgrove called out that she needed the School Resource Officers outside. School Resource Officer (SRO) Estrella and his partner SRO Fred Mello responded.
Officers Mello and Estrella restrained the fighting students and walked them in separate directions. Officer Estrella reported that as he was walking his student, the student continued to yell obscenities and struggled to break free from the escort, forcing Officer Estrella to handcuff the student. SSO Cosgrove attempted to separate Ms. Jerrier from the students and staff and was joined by Officer Mello who was forced to handcuff Mrs. Jerrier. The School Resource Officers were assisted by Officers J. Ruggiero and R. Saraiva.
Nicole Jerrier, age 35 of Fall River was arrested and charged with Disturbing a School Assembly.
-A juvenile age 16 was arrested and charged with Affray and Disturbing a School Assembly.
-A juvenile female student age 15 will be summoned to court to answer to charges of Assault and Battery and Disturbing a School Assembly.
-A juvenile male student age 16 will be summoned to court to answer to charges of Affray and Disturbing a School Assembly