Taunton Police Department files charges in fatal pedestrian accident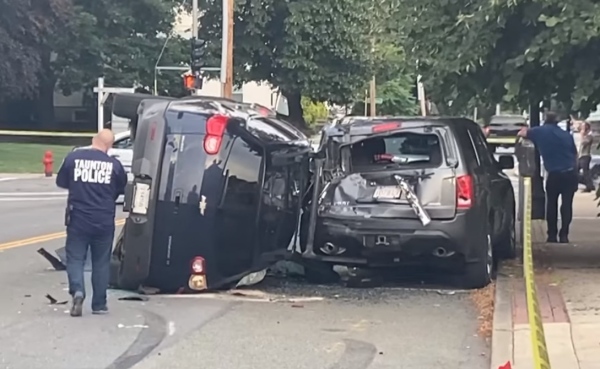 A 42-year-old Taunton man has been charged with a litany of crimes in relation to a fatal motor vehicle incident which occurred yesterday afternoon in Taunton.
At approximately 4:30 p.m., Taunton Police responded to the area near the intersection of Main and Cedar streets after receiving 911 calls pertaining to an erratic driver striking a pedestrian with a Chevrolet SUV.
Responding officers located a Taunton woman who was suffering from serious injuries. The victim, 59-year-old Lisa Rocha, was transported by ambulance to Morton Hospital, where she was later pronounced deceased.
Investigators determined the driver of the SUV, Roland Escobar, initially fled the scene of the crash by continuing to drive a short distance further before striking a vehicle on Summer Street.
The defendant was transported to Good Samaritan Medical Hospital in Brockton for treatment of minor injuries. Once medically cleared this evening, he was immediately taken into custody.
The defendant is being charged with Manslaughter, Assault and Battery with a Dangerous Weapon-Motor Vehicle, Operating While Under the Influence of Drugs-Felony Homicide, Operating While Under the Influence of Drugs-Death Resulting, Operating While Under the Influence of Drugs-Second Offense, Leaving the Scene-Death Resulting and Leaving the Scene of Property Damage.
The defendant will be held overnight and arraigned tomorrow in Taunton District Court. Assistant District Attorney Michael Cahillane is coordinating the investigation on behalf of District Attorney Thomas M. Quinn's office and will handle tomorrow's arraignment.