Routine traffic stop leads to seizure of illegal drugs and firearms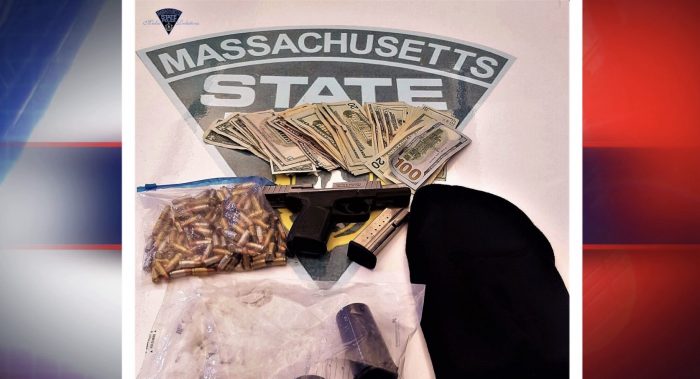 The Massachusetts State Police announced Tuesday that a routine motor vehicle stop by an alert Massachusetts State Trooper last week in Chelsea resulted in the seizure of an illegally possessed gun, more than 100 rounds of illegally possessed ammunition, and illegal narcotics.
On the morning of November 21, Trooper Joseph Barteaux was patrolling Route 16 westbound in Chelsea when he observed a black Nissan Altima being operated in violation of motor vehicle laws and observed it almost strike another vehicle while abruptly changing lanes.
The vehicle, occupied by two brothers, pulled into a McDonald's parking lot. Trooper Barteaux followed it into the lot and conducted a motor vehicle stop. Upon questioning, the driver, age 22, stated he and his brother were coming from his girlfriend's house in Lynn and were returning to their home in Randolph. The driver, however, could not name the street his girlfriend lived on.
After making further observations of both men being uncooperative and appearing nervous, Trooper Barteaux asked both men to exit the car. The 24-year-old passenger walked with an apparent limp and dragged his right leg. When asked, he denied being injured. Based on the Trooper's training and experience, he believed the passenger was concealing something in his clothing was walking strangely to hold it in place.
Despite the suspect's attempt to resist the search, the Trooper located a cylinder concealed in the suspect's pants. Trooper James Maloney arrived on scene and assisted Trooper Barteaux in controlling the suspect. The suspect became upset and attempted to break free, twisting his body with his elbows raised and striking the Troopers in the process. The Troopers physically placed the suspect on the ground. Trooper Barteaux drew his department-issued electronic control weapon and ordered the suspect to cease resisting; the suspect then complied with the Troopers' orders, the weapon was not fired, and the suspect was taken into custody.
Trooper Barteaux then unscrewed the top of the cylinder the suspect had been concealing and observed inside it a large plastic bag containing a white rock substance believed to be crack cocaine.
Trooper Barteaux returned to the front driver side of the Altima and observed, in a compartment in the open front door, a black ski mask. The Trooper also noticed that a plastic panel behind the front right passenger seat was loose, exposing a void inside the seat. Knowing from his training and experience that a void like that is a common hiding place for illegal contraband, Trooper Barteaux reached into it and retrieved a plastic bag containing 116 nine-millimeter rounds of ammunition and a black and silver Smith & Wesson 9mm firearm. Trooper Maloney additionally located a large roll of duct tape.
The suspects were transported to the State Police Barracks in Revere. There, during a search of the passenger's person, Troopers located several additional bags containing a white rock substance believed to be cocaine, a brown powder believed to be heroin, and 21 purple pills believed to be Class B oxycodone. More than $1,000 cash, believed to be the proceeds from drug transactions, was also found in the passenger's possession.
The driver was charged with illegal possession of a firearm, illegal possession of ammunition, negligent operation of a motor vehicle, and making an unsafe lane change. His brother and passenger was charged with illegal possession of a firearm, illegal possession of ammunition, possession of a Class A substance with intent to distribute, possession of a Class B substance with intent to distribute, trafficking a Class B substance over 18 grams, and assault and battery on a police officer. The brothers were subsequently arraigned in Chelsea District Court.