Fall River Firefighters receive Firefighter of the Year awards Tuesday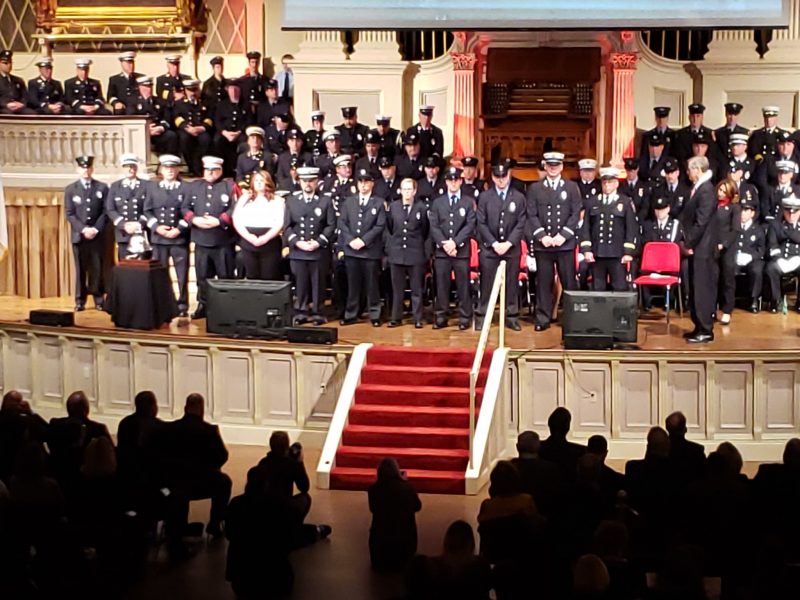 WORCESTER – Governor Charlie Baker, Lieutenant Governor Karyn Polito, and other state officials today joined State Fire Marshal Peter J. Ostroskey to honor Worcester Firefighter Christopher Roy, who gave his life in the line of duty last year, along with firefighters from 14 Massachusetts fire departments who undertook heroic acts of bravery and public service during 2018.
The 30th annual "Firefighter of the Year" Awards ceremony was held at Worcester's Mechanics Hall today. WCVB's Doug Meehan emceed the event. Officials also recognized Worcester Fire Lieutenant Jason Menard, who died in the line of duty on Nov. 13 while fighting a house fire on Stockholm Street.
"The Commonwealth's first responders put themselves in harm's way each day, and these awards provide an opportunity to recognize their bravery and sacrifice. This year, our administration is proud to honor Christopher Roy, his family, and his legacy of heroism and sacrifice," said Governor Baker. "Massachusetts cities and towns are safer places to live, work and raise a family because of the men and women like him, who selflessly answer the call knowing the danger that may await them."
"It is our privilege to recognize the heroes who take such remarkable action to protect our communities, even at great cost to themselves," said Lieutenant Governor Polito. "Our administration also wants to thank their families, who make sacrifices of their own as their loved ones keep us safe."
The following received the Group Meritorius Conduct Award:
District Chief Kevin Blythe
Captain Michael Shea
Lieutenant Daniel Gerling
Lieutenant Paul Machado
Lieutenant Daniel Medeiros
EMS Lieutenant Michael Arruda
Firefighter Bruce Alves
Firefighter Robert Forand
Firefighter James Frascatore
Firefighter Ryan Hebda
Firefighter Sterling Hudson
Firefighter Brandon Jackson
Firefighter Jean Paul LaFleur
Firefighter Tyler Lima
Firefighter Nathan Lowney
Firefighter Christian Ponte
Paramedic Samuel Finney
Paramedic Matthew Fournier
Paramedic Heather Littlefield
Paramedic Charles Oldham
Paramedic Jessica Soder
It was early morning last December 13, when multiple companies from Fall River Fire arrived to a rollover on Route 24. First on the scene crews found a badly crushed motor vehicle with the driver still inside and a 12,000-gallon tanker truck leaking gasoline and its driver lying in the road nearby. Crews worked quickly, putting themselves in extreme danger because of the leaking fuel, and were able to remove the driver from the crushed vehicle. He was transported to a Rhode Island Hospital and survived. The driver of the tanker truck had died and the crews moved his body to a safe position. They then laid foam on the ground to prevent the ignition of the gasoline and to prevent contamination. An estimated 200 gallons of gasoline spilled on Route 24 that day.
The following received the Group Meritorius Conduct Award along with three receiving an additional Valor Award:
District Chief James Mellen
Captain Matthew Johnson
Lieutenant Paul Berube
EMS Lieutenant Cheryl Davis
Firefighter Andrew Cordeiro
Firefighter Ed Correia Jr. (Valor)
Firefighter Michael Cusick (Valor)
Firefighter Tyler Lima
Firefighter Brian Rapoza
Lieutenant Raymond Schofield (Valor)
Paramedic Matthew Adams
Paramedic Emanuel DeAraujo
Paramedic James Guilmette
Paramedic Heather Littlefield
It was New Year's Day when members of the Fall River Fire Department responded to the Four Winds Estates for a report that a vehicle had driven into a building. This property is a very large three-story apartment building with at least 30 units. Upon arrival, crews reported heavy smoke on all three floors. The car had driven straight into the utility room, rupturing the main natural gas service. The ruptured line ignited, and the fire was quickly spreading. As the crews started to attack the fire and shut off the gas, they realized there were two occupants still in the vehicle. The car was wedged into the room with fire surrounding it. While crews held back the fire and cut the roof of the car, Lt. Schofield and Firefighters Correia and Cusick, removed the seriously injured occupants. Unfortunately, neither occupant survived.
The Medal of Honor award was presented posthumously to Worcester Firefighter Christopher Roy. Roy died battling a five-alarm fire on Lowell Street in the early morning hours of Dec. 9, 2018.