Elderly woman gets stuck crashing through garage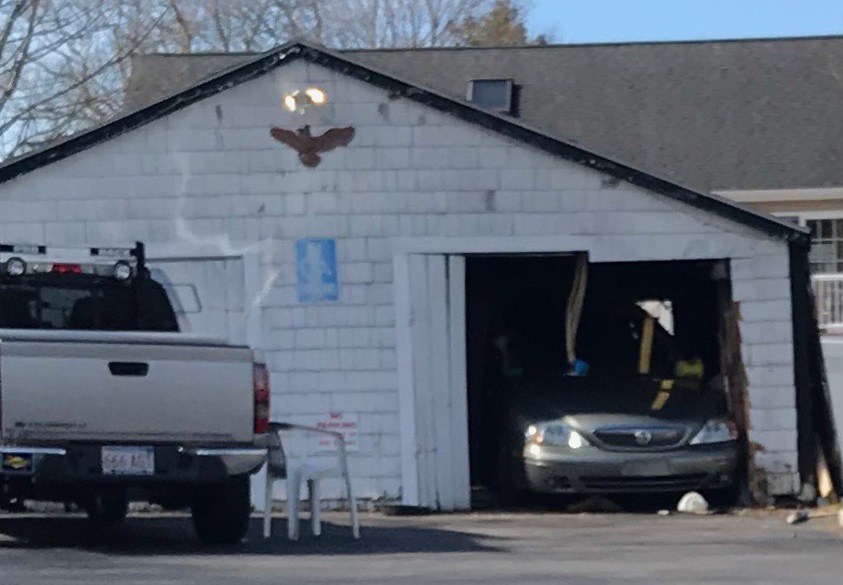 RAYNHAM — Fire Chief James T. Januse and Police Chief James W. Donovan report that a woman suffered minor injuries when she backed her car into a detached garage at a home in Raynham Tuesday morning.
At approximately 9:32 a.m., the police and fire departments received a report of a car crash at 63 Center St.
When rescuers arrived, they found an 85-year-old Raynham woman who was unable to get out of her car because it was wedged into one of the bays of the two-car garage. The garage sits about 30 feet away from the home.
Shelving units were removed in order to help get the woman out of the car safely. She was subsequently transported to Morton Hospital with minor injuries.
The initial investigation indicates that the woman was backing down the driveway and angled the car to avoid a white pickup truck that was parked in front of the garage. The woman then reversed and accelerated through the garage door and became stuck.
The 2004 Mercury Sable sedan and the structure both sustained significant damage.
As a result of the crash, Raynham Police submitted a Request for Immediate Threat License Suspension/Revocation to the Registry of Motor Vehicles.